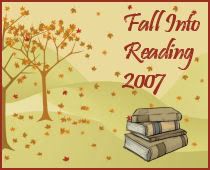 I am finally posting my Fall Into Reading list. It seems that I have an ongoing list (see sidebar) but this challenge, like it's host
Katrina
, helps me to get to those pesky non-fiction books that stretch me. I have had a couple - even a couple from the Spring challenge, but I am going to give it another shot. So here is my official list.
9 things you simple must do by Henry Cloud:
I started this last spring and I am about half way through it. I am actually trying to apply some of the principles. I really want to get this one done.
Having a Mary Heart in a Martha World by JoAnne Weaver:
Also a hold over from last spring. I keep reading great reviews and quotes on this. I am going to work on this one next - before the fiction....:)
Now Discover your Strengths by Marcus Buckingham:
I acquired this book after hearing him speak at a leadership conference this summer. He is a dynamic speaker and I am hoping the book is just as interesting. I am waiting on the husband for this one. He does so much better at non-fiction than I do!
Holy Discontent by Bill Hybels:
This is another great speaker and pastor of Willow Creek Community Church outside Chicago. I read one of his books, Too Busy Not To Pray, in college. It was eye opening. I have a feeling this book might have the same affect. I am hoping to get to it.
Now on to the fiction:
True Light by Terri Blockstock:
This is the third book is a series about how the world would function without anything that runs on electricity. Intriguing for my scientific mind.
Sunrise and Summer by Karen Kingsbury:
My book list would not be complete without including one of my favorite authors on my reading list. Continuation of the Firstborn series.
Kingdom Come by Tim LaHaye:
Last book in the left behind series. It seems like it might be anti climatic, but I will give it a go.
I am sure that I will be adding to my list as I look at other peoples list and read reviews. I love reading and this is so much fun.
Happy Reading everyone!